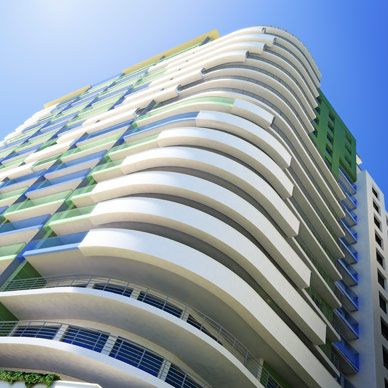 Built on the Tigne peninsula of Sliema, Fort Cambridge are purpose built seafront apartments in Malta, designed with comfort and excellence in mind. The unique structure provides magnificent one to four bedroom apartments, duplexes and penthouses that meet all the requirements one expects from a superior standard of seafront apartments in Malta.
Situated on the historic site of the Cambridge Battery, the seafront apartments in Malta combine contemporary urban design with a peaceful spacious environment. Over 80% of the development is dedicated to landscaped open spaces that incorporate the original battery building and features. No commercial retail outlet forms part of the residential area of the development, preserving the peaceful environment and guaranteeing the privacy of its residents.
Spacious rooms and spectacular views are just two features future residents will enjoy in the seafront apartments in Malta. Fort Cambridge has an underground car park, private swimming pool, fitness centre, an indoor pool, gardens and 24 hour security, all included to guarantee the peace of mind and convenience of its residents occupying the seafront apartments in Malta. With an emphasis on the quality of living it's no wonder that Fort Cambridge is fast gaining recognition as the most sought after address in the Mediterranean.